英语原来可以玩着学——Ulink 英文电影配音大赛精彩纷呈,爆笑来袭
2018-08-24 14:13:19
经过两周的准备和初赛,由英语教研组组织的Pre IG 英文电影配音比赛的决赛终于拉开帷幕,四支队伍争夺桂冠,比赛现场好不热闹,选手们精彩的演绎,带给观众和评委们更多有趣且精彩瞬间!
After two weeks preparation and competition, the final of the Pre IG English film dubbing competition organized by the English department was finally started. Four teams competed for the championship and the competition was lively. Players have wonderful performances and brought more interesting and wonderful moments to the audience and the judges!
一等奖 The first prize
Pre IG 6 "Despicable Me 3"
《 卑鄙的我3》
Bill 张宇韬
Leon 刘钟羊
Kelly 顾秀玥
Florence 贡婵娟
Sherry 唐欣睿
Jessie 姚雨玥
Bryant 殷嘉钰
二等奖 Second award
Pre IG 2 "Friends"
《 老友记》
Joe Zhu 朱伟杰
Cindy Wen 温馨
Jack Zhang 张季晟
Max Chen 陈薪童
Jennifer Wang 王唯妤柔
三等奖 Third Award
Pre IG 3 "The Penguins of Madagascar"
《马达加斯加的企鹅》
Catherine Li 李竺璇
Diana Yuan 袁嘉璐
Bonnie Yang 杨依帆
Pre IG 5 "Zootopia"
《疯狂动物城》
Harry 朱弘毅
Chloe 吴家宜
Amy 凌佳㼆
Fanny 苌悦然
Jay 徐天越
Olivia 王宇和
Joyce 蔡煜扬
Richard同学精湛的吉他演奏
赛后感受
Samantha老师
配音比赛之后,回顾从初赛到决赛的点点滴滴,冠军队每位成员都分享了自己独特的体验和感想。特别愉悦。
For this composition, the students did are flection on each step of the process. It is coming from the perspective of each student from the winning team, defining their thoughts and reflecting on the dubbing competition process…enjoy.
Bryant:
配音、混音或重录是拍摄电影和视频的后期制作。在英文电影配音比赛,我们要模仿演员们的台词,锻炼自己的英语能力。这同时还是培养团队精神的活动。
Dubbing, mixing or re-recording is a post-production process used in filmmaking and video production. This activity has good benefits to the students. Through the dubbing process, we students need to mimic what the actors say so that we can actually practice our English kills. It's a very good way to develop our teamwork as well.
Bill:
作为本组的组长,我需要思考很多问题,例如谁能用iMovie 软件?谁善于选择影片资源?谁的声音更适合哪个角色?有些组员以前参加过配音比赛,因此我让他们担任主要角色。我们都有不同的技能,团队合作。最重要的是我们有赢得比赛的信念。我们全身心投入比赛。
As the leader of my group, I needed to think about all the points of a team, who can use the program iMovie? Who is good at choosing the movie and whose voice is better for each character? If some has dubbed before, I chose them to have a larger role in the process. All of us have different skills and work together. That important thing is that we all wanted to win the competition and we were willing to put all our hears init.
Florence:
最初我们组有两个男生两个女生。每个人都有不同的想法,因此我们做了一个电影和卡通电影列表。我们讨论了各种可能性,包括浪漫电影、喜剧、甚至还有纪录片。然而我们发现找到适合的电影还是很难的,我们需要找声音特征和我们相似的角色,所以最终我们选了"Sing" and "Despicable Me:3"。同时,为了使配音比赛有趣,我们组增加唱歌环节。Kelly同学特别想演小黄人角色。尽管他们的语言怪怪的,我们反复听反复练,甚至借用了拼音标注。然后大家一同努力,最终取得佳绩。
Our original team had two boys and two girls. Everyone had different ideas, so we made a list that included movies and cartoons. All types of romantic, comedies and even documentaries that we were interested in were discussed. However, finding the movie was difficult and we need to have the same voice of the characters, so we choose cartoons: "Sing" and "Despicable Me: 3". Also, to make the competition interesting, I wanted to add singing to our group. Kelly really wanted to do the minions and, even though the language is strange, we listened to the characters, again and again, creating pinyin to mark the different tones. Then we practiced very hard to achieve a good result.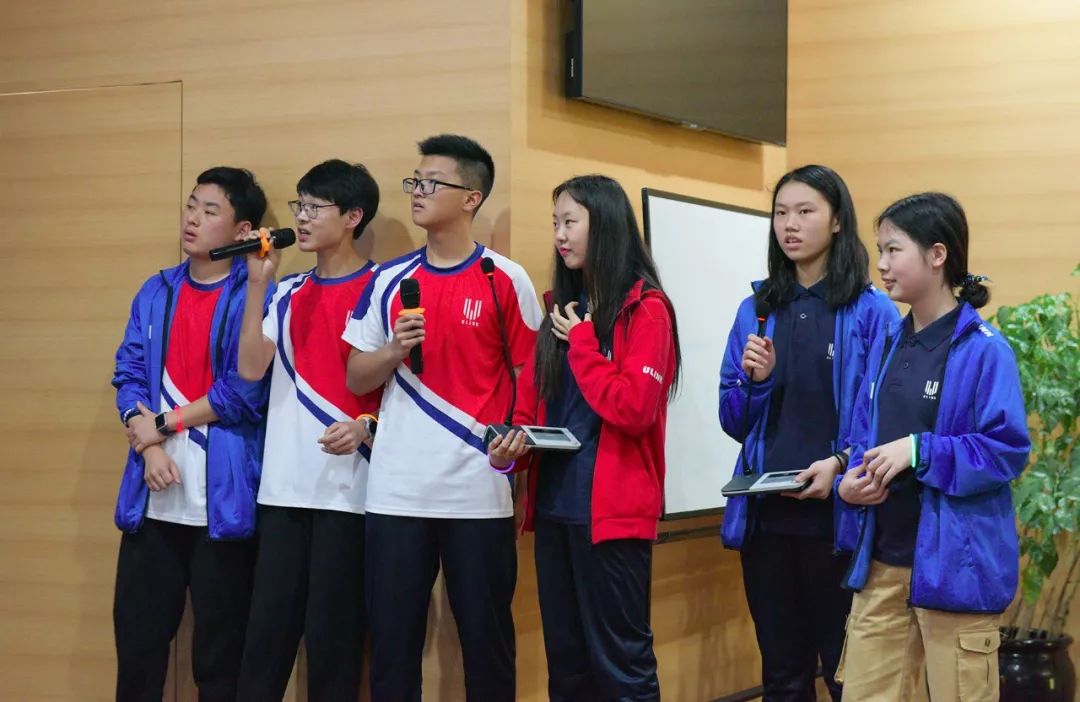 Leon:
我们从没想过能够自己组能够获得班冠军。虽然我们英语老师Samantha给了我们很多练习时间,但是我们在一些小细节上争论浪费了一些时间。之后我们专注到练习,我们表现很棒。当我们得知第一轮结果时,我们感到很惊讶,同时对决赛的挑战也无所畏惧了。
We have never thought that we could win during the first competition in class. Though our English teacher gave us a lot of time to do the dubbing, we still argued and wasted time on technology and other things I thought we shouldn't care about. But when we focused our work on practicing, we performed well. When we got the result, we were so surprised and everyone on our team just weren't afraid of anything. Yes, we are ready to take on the big new challenge soon.
Kelly:
当我们被选出代表班级参加英文电影配音决赛时,我们非常兴奋,但是我们仍然担心自己无法扮演多个角色。我们组又从其他组选了高水平选手加入。他们都很愿意和我们做一个超级棒的配音。每天我们每个课间都在练习,尽全力记住台词,尽量跟电影原声一样。
When we were chosen to represent our class to joining the final dubbing competition, we were excited. But we still felt that we were unable to play too many roles. We chose the ablest students from other teams in our class. They were all willing to finish a wonderful dubbing. We practiced at every break, every day, and tried